2020 IEEE MITRANS International Logistics & Transport Conference
(IEEE MILTC 2020)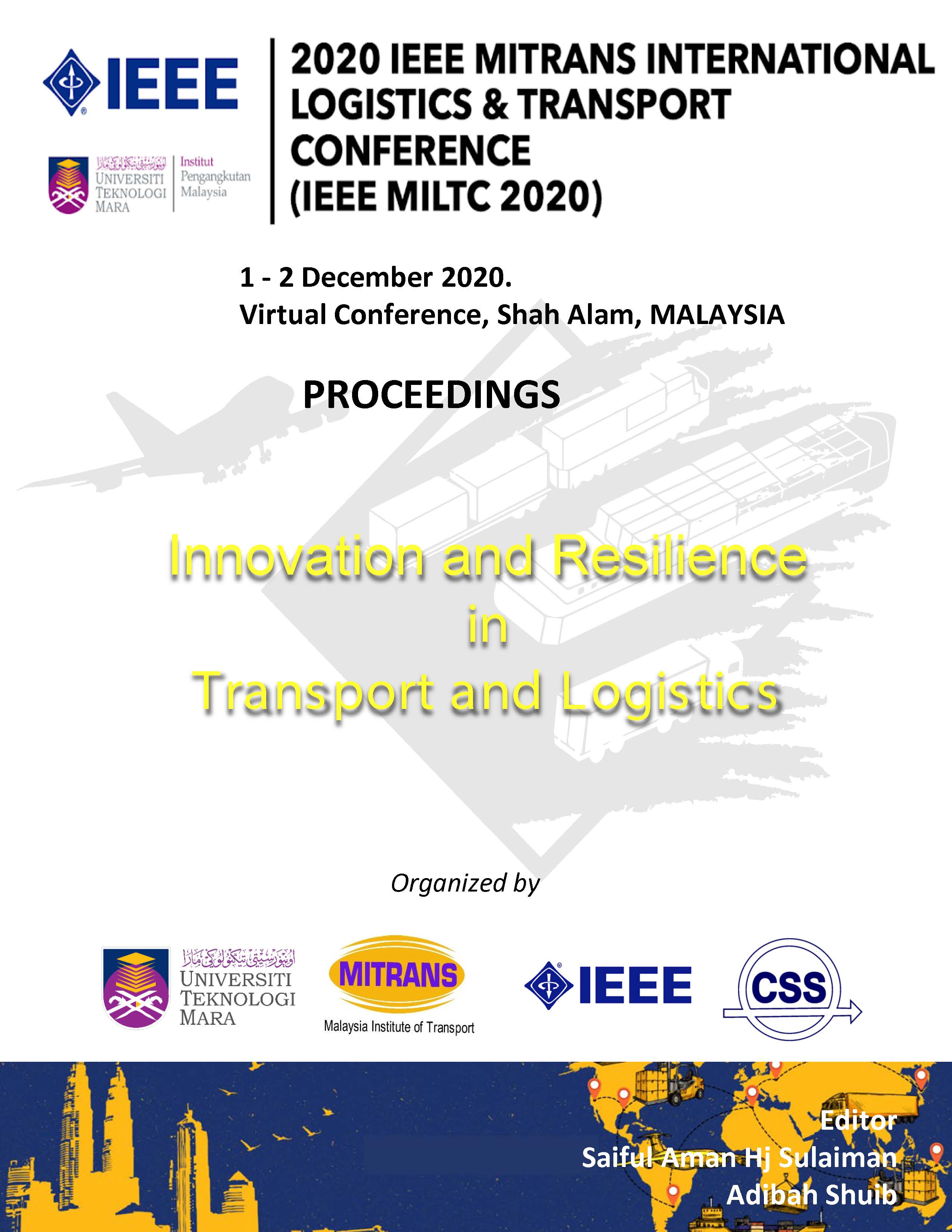 MILTC2020 Proceeding
eISBN: 978-983-44473-8-0
2020 IEEE MITRANS International Logistics & Transport Conference (IEEE MILTC 2020) organized by IEEE Malaysia Section Control System Chapter (CSS) and Malaysia Institute of Transport (MITRANS), Universiti Teknologi MARA (UiTM), Shah Alam, Malaysia. IEEE MILTC 2020 was successfully held on 01 & 02 December 2020 and conducted in the form of a virtual conference due to Pandemic Covid-19. There were four (4) distinguished keynote speakers who share their knowledge and experiences in Transportation, Logistics and Supply Chain to the participants. The conference provided platforms for fourteen (14) presenters to share their research and findings in 5 virtual sessions. During the presentation, ONLINE interaction among the participants was valuable, enriching research networking as well as promoting the technological advancements and innovations in Transportation, Logistics and Supply Chain. In conjunction with the conference, twelve (12) IEEE MILTC 2020 Conference Proceeding Papers complied. All the papers have been through a rigorous review process and meet the international publication standard. 
No
TITLE AND AUTHORS
PAGE NO
DOWNLOAD
1

User Experience of an Early Autonomous Vehicle's Trajectory Information Using Visual and Haptic Modalities on Occupants.

Nidzamuddin Md. Yusof, Juffrizal Karjanto, Jacques Terken, Frank Delbressine &Matthias Rauterberg

1-6
PDF
2

Leveraging on the Intercity Train Services to Support Community Based Tourism Development

Shahrul Azmal Jamaludin

7-14
PDF
3

Maximum Readable Distances for Indoor Information Signs and Outdoor Traffic Signs

Saiful Azlan Rosli, Tengku Puteri Aina Tuan Mansor & Ai-Hong Chen

15-19
PDF
4

Comparing Visibility Distance for Eight Colour Combination Charts Under Car Halogen Headlamp Illumination

Azmir Ahmad, Saiful Azlan Rosli, Ummi-Nabilla Shaharuddin, Nurul-Farhana Mohd-Ruslim & Ai-Hong Chen

20- 24
PDF
5

En Route to Green Campus UiTM Shah Alam: Is Public Transport the Key Mode to Cut Carbon Emission?

Wan Mazlina Wan Mohamed, Siti Ayu Jalil & Aina Balqis Azrin

25-30
PDF
6

Particle Swarm Optimization for Urban Transit Network Design Problem                                   

BUBA Ahmed Tarajo & LEE Lai Soon

31-35
PDF
7

Malay Muslim and Halal Logo as the key Factors for CollaborativeRelationships Development Process in Halal Supply Chain

Hasbullah Othman, Nasruddin Faisol, Anis Sazira Bakri & Jasmee Jaafar

36-41
PDF 
8

Optimized Fuzzy Compensation for Uncertain Autonomous Vehicle's Slip Angles and Slip Ratios

Foudil Abdessemed

42-46
PDF 
9

Smart Felda: Sustainability and Smart City Approach

Zaimy Johana Johan & Mohd Nasir Taib

47-49
PDF 
10

Revisit Green Practices and Performance for Logistics Service Providers

Renugala M Shollunayagam, Ai Chin Thoo & Teh Zaharah Yaacob

50-59
PDF
© Malaysia Institute of Transport (MITRANS), UiTM.
All Rights Reserved. No part of this publication may be reproduced, stored in a retrieval system, or transmitted, in any form or by any means, electronic, mechanical, photocopying, recording or otherwise, without the prior permission in writing from the Malaysia Institute of Transport (MITRANS), Universiti Teknologi MARA, Shah Alam, 40450 Shah Alam, Selangor, MALAYSIA.
Contact Person:
Sr Ts Dr SAIFUL AMAN BIN HJ SULAIMAN
Head
Research & Publication
email: This email address is being protected from spambots. You need JavaScript enabled to view it.
Tel: 0122624854